People often don't understand interior crawl space or basement pump systems and exterior outdoor yard pump systems. When evaluating the value of a French drain versus a sump pump system the best solution will depend on the exact location and scenario.

With a basement, the question isn't one of "sump pump vs French drain" as you'll need both. A sump pump system will be needed to push the water out of the basement so that it can be discharged outside the house.

For a crawl space that allows the water to flow freely to an outdoor location, a French drain system will be suitable. That is, providing the amount of water that has to be removed is less than the French drain's capacity. If it's more, a sump pump will be required.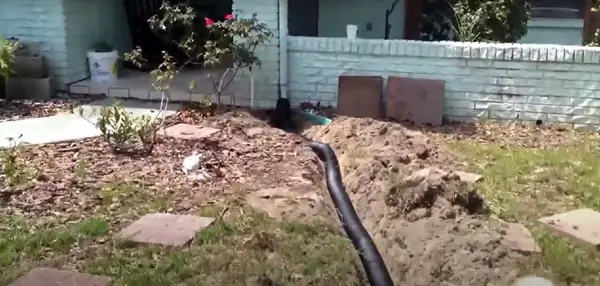 Table of Contents
Outdoor Sump Pump vs French Drain
A French drain operates by using gravity to remove water from a higher to a lower elevation. The lower location may be a sump pump, a dry well, or any other place where the water can be safely released.

Although this is not often a real option, a French drain system could also allow water to percolate into the surrounding ground.

An outdoor French drain can collect water and feed it to a pump in your yard where the sump pump directs the water to another place. That may for example be as simple as pumping water over a low retaining wall into a stream or lake.

A sump pump system can also be used to pump the water uphill to discharge it into a street drainage system.
Is A Sump Pump And A French Drain Needed in The Yard?
This is not always the case. A sump basin and pump are often placed in areas where water collects naturally. The sump pump then moves the water to another location. This normally needs a buried plastic pipe or an above-ground hose.
Advantages of a Sump Pump vs French Drain
There are several advantages sump pumps have over French drains. The biggest and most obvious of these is the volume or quantity of water that can be drained away or pumped.
Pumps such as Zoeller's M53 sump pump (shown below) are able to drain as much as 34 gallons in an hour at a 10 foot head height. An outdoor French drain simply does not have this capability! Zoeller's M53 sump pump is the only sump pump many plumbers recommend.
Sale
Activates Only When Required
Another big advantage of a sump pump system over a French drain is that it uses active draining while a French drain's operation is passive. This means you can't increase the French drain's capacity when needed.

A sump pump activates when water starts rising. This means that the basement won't flood as long as the pump is able to remove a bigger volume of water than what flows into the sump.
French drains won't be able to handle big volumes of water during flash floods, but can only cope with small to medium volumes of water over time.

A basement sump pump can however handle bigger volumes of water flowing into your basement easily.
You'll get a massive amount of pumping power simply by activating a pump as needed when water levels start rising.
Uphill Pumping
Another major benefit of a sump pump is that it can pump water uphill. Although French drains work well when they can use gravity and the water flows downhill, they can't remove water from a flooding basement.
Installation Cost
The final advantage of a sump pump vs French drain is installation time and cost. A sump pump can easily and quickly be installed by someone handy with tools and a shovel and a professional electrician.

You should be able to hire a local plumber to install a sump pump if you're near or in a big city.
Disadvantages of a Sump Pump vs French Drain

There are some scenarios where a French drain is better than a sump pump.
Advantages of an Outdoor French Drain vs Sump Pump
The biggest advantage is that it works even when there is no power in the house. Plus, once installed there are no additional expenses.
Passive Draining
Unlike a pump, a French drain operates by using passive draining.

The drain lines use a minor slope and are underground, and use gravity to drain away excess water.

Water collects and drains naturally over time and therefore a motor or float switch need not be activated.
Routing Water Away from the Building
Providing it has been designed well, an outdoor French drain system will route water away from a basement's walls, thus preventing water from seeping into the basement.
If several drains are positioned in such a way that they empty into city drainage or a suitable part of the property, water will be collected as it rains and drained away from the home.
Shown below, the Catch Basin Downspout Extension Kit removes water away from the house so that the basement sump pump doesn't have to run as often.
Sale
Amerimax 12-in. No Dig Low Profile Catch Basin Downspout Extension Kit, Black
No digging required, low profile design can be hidden by covering with mulch, straw or other landscape cover
Includes 8 ft. L of 2 in. flexible pipe to prevents water and foundation damage by diverting rain water around landscaping
Made with a durable resin that can withstand all outdoor elements
Compatible with all standard residential downspouts (2 in. x 3 in., 3 in. x 4 in., and round)
Basin is 12-in D x 4.25-in. W x 12-in. W. Includes 2-drain pipe knockouts and a cap to close off 1-hole if only using 1-drain location
No Electrical Connections
Although most sump pumps require electricity to run, backup sump pumps like the This means they can still operate even if there is no power due to big storms.
French drains use gravity and not electricity. The water will always flow provided the drain is not clogged.
No Mechanical Parts
French drains don't use mechanical parts that can fail or break as those on an electric sump pump eventually do.

Sump pumps have the actual pump and many moving parts that tend to fail easily if a solid piece of debris makes it past the filter. They are also prone to wear and tear.
Operation is Silent
As French drains are silent homeowners often prefer them. Sump pumps and their backflow check valves make some noise while operating. Some sump pumps and check valves are quieter than others.

This could be a problem if the floors are thin, especially if the pump is near a bedroom. There are however sump pump basin covers available that will dampen the noise to some degree.

As outdoor French drains are silent they make a good choice, especially for light sleepers.

Installing several outdoor French drains will reduce the noise from a basement sump pump. That is due to the French drains preventing most of the water from flowing into the basement, resulting in a smaller and quieter basement sump pump being required.

When evaluating a sump pump vs French drain system the main factor is how much water there is and how far away it must be drained.
How to Select a French Drain or Sump Pump
Both French drain and electric sump pump options have advantages and disadvantages that you need to consider before you start digging.

Electrical sump pumps are the better option when a higher water volume pumping capacity is needed on demand. Although their upfront and usage costs are higher, it is the most effective solution to prevent your basement or yard from flooding.

French drains are the better option on a large property with lower requirements for water drainage. A French drain may also be more suitable if access to electrical power is limited.
Related article: Do I Need a Backyard Sump Pump with a Dry Well or French Drain?
Which Option Is Better?
Homeowners often ask us what the best option is:
Only a French drain
A French drain together with a sump pump
Only a sump pump

Although all of the options above can be used to drain water, each has unique advantages and disadvantages.
I normally recommend installing a French drain together with an electric sump pump for removing water in the basement. This combination is the most effective to keep the basement dry.
Shown below is the Liberty Pumps CSP-237 kit . It has been used in yards and crawl spaces to collect water in a low spot and pump it to a different location.
Liberty Pumps CSP-237 Pump, one-size, Gray
16.5″ x 15″ poly sump pit (perforated) and poly cover
Automatic sump pump, 115 V, with 10′ power cord
24′ flexible hose kit, polyethylene 1-1/4″ (Model DHK-24)
Check valve threads directly into pump discharge
Although only a French drain is best used outdoors, an additional sump pump may also be needed.

Installing a French drain without consulting with relevant parties before you dig may get you in trouble. Always first ensure that the local authorities and close neighbors are okay with your plans.
There have been many legal disputes resulting from French drains being installed without proper consultation.

Using the wrong type of pipe or flooding a neighbor's yard can turn out to be very costly.
Related articles:
Zoeller M98 Sump Pump Review 1/2 HP Effluent and Dewatering Pump
Sump Pump Draining into Yard? Why? What Can I do About it?
Why Is Water Coming Out of the Ground in The Yard? 7 Pro Tips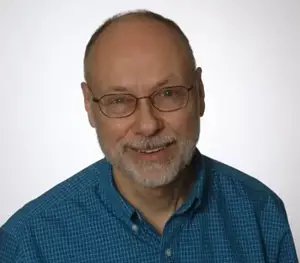 The first time I helped to install a drain tile and basement sump pump system was 1978.
Since then I have worked for a city water utility where I worked with and maintained pumps.
My rental properties and personal homes all needed sump pumps.
As a modular home dealer/builder, those new homes needed sump pumps.
I put that experience to good use by providing reliable, useful, and practical advice on buying, using, and maintaining sump pumps.