If you see water coming out of the ground in the yard unexpectedly, it is not good as this normally means that a sewer or water pipe under the ground has broken.
This problem could however also be caused by the movements of natural groundwater. This article on "water coming out of the ground in the yard" will explain what may cause the problem and what you can do about it.
Table of Contents
Our Guide to Finding and Fixing Problems with Water Coming Out of The Ground in The Yard
Although you can skip to the section(s) that seems to be most applicable to your problem, many sections of this article are however interconnected and may also apply to your specific scenario.
Signs of Water Coming Out of Ground
Hissing sound
Water spraying into the air
Soggy grass or water puddles
The yard stinks like sewage or rotten eggs.
Plants grow better in an area of the yard
Water spraying out of the ground. Although this problem occurs rarely, the cause is quite common.
Hissing Sound
Hissing sounds can be caused by either a freshwater or a sewer pipe leaking. The sound is made by water escaping from a leak in the pipe, but the pressure not being enough to cause a visible spray. If you live in an area where water is supplied by a local Water Utility, this type of repair must be done by a licensed professional as they know the local regulations and that is the only way the health of everyone that uses the water system can be protected.
If you hear a hissing sound and notice a bad smell without there being a water puddle, this could be caused by a leak in the natural gas system.
Water Spraying into The Air
When water sprays into the air, it's a sure sign that the freshwater line that runs from the street to the house has sprung a leak. You need to once again call a professional plumber to fix the problem.
Soggy Grass or Water Puddles
If you have soggy grass or water puddles, it could be caused by one of several reasons. It could be caused by the underground water table having risen, or by natural soil conditions like clay not allowing water to drain into the earth fast enough.
This problem could however also be caused by a leak in a freshwater or sewer pipe.
Sale
Prostormer Sump Pump, 1/2HP 2110GPH Sumbersible Water Pump, Portable Electric Pump with Build-in Float Switch for pool draining, Crop Irrigation, Yard and Flooded Cellar
🌊【Kindly Tip 1】To get the most out of your Prostormer Sump Pump, we recommend submerging it into the water at a slight angle to allow any remaining air to escape. This will ensure optimal efficiency and performance.
🌊【Kindly Tip 2】The device is not suitable for continuous operation (e.g.as recirculation pump for ponds).This type of use will substantially shorten the pump's life expectancy.
🌊【1/2HP High Power】Prostormer Sump Pump uses 1/2HP power, which is more efficient than ordinary sump pump; Max 2110 Gallon Per Hour rating tackles any draining job at a fraction of the time.
🌊【Multi Outlet Sizes】3 different diameters outlets (1 inch ,1-1/4 inch, 1-1/2 inch) to adapte for different size hoses as needed according to the flow rate. The bigger the flow is, the wider the outlet should be.
🌊【Manual Mode】Set the switch to the MANUAL positon the pump will now not automatically switch off but carry out pumping, even if theremaining water level is reached and the pump runs dry. You should cut off the power immediately to prevent the coil from getting burned.
The Yard Stinks
The yard stinking with a sewer smell is caused by sewage water soaking the ground and creating a puddle that then releases foul gases into the air.
This is due to a leak in a sewer pipe, or it could be caused by a leak in a septic system pipe.
Many years ago, I worked for a sewer department and had to be vaccinated for hepatitis as hepatitis can be transmitted via contact with sewage water. It's therefore best not to try and fix this yourself. Contact a plumber to repair the problem.
If the yard stinks but you can't find a water puddle, the problem could be caused by a natural gas leak.
Plants Grow Better in An Area of The Yard
Water leaking from a pipe could provide more moisture where plants can thrive. Too much water will however also kill some plants. If this is the case, there will however likely be a visible water puddle.
Common Reasons for Water Coming Out of the Ground in the Yard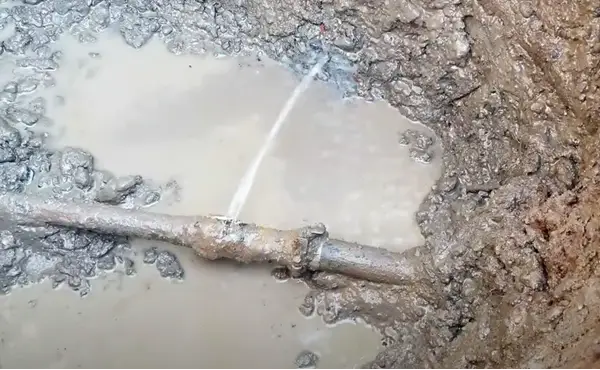 Driving Over Subsiding Soil and Water Pipes
When I landscaped my yard after the house was built, I needed several pickup truckloads of black soil. I made very sure that I didn't drive over any pipes when driving the pickup truck into the yard. The extra weight of a loaded truck can easily create enough pressure that will crack a water pipe.
That is especially true when the soil where a pipe was laid subsides. This happens when the soil under the pipe is not compacted enough. The soil is then later compacted by water percolating through the soil, and this basically creates a cavity under the pipe. The result is that the pipe is not supported properly, and the weight of a pickup truck or other heavy vehicle can result in the pipe bending and then breaking.
Leaking Well Water or City Water Main Line
Water spraying into the air or unusually big water puddles are clear indications of a leak in the main water line. Other signs that a water main is leaking is if there is low water pressure in the building, or if the water bill is unexpectedly higher than normal.
A homeowner is responsible for any leaks after the main shutoff valve located on the property line or in the boulevard. This is at the edge of the sidewalk where I live.
If there is a leak, a homeowner that has a private water well system will typically hear the well pump running more often than normal.
Leaking Pipeline or Sprinkler Head
Backyard sports games and riding lawn mowers can easily damage irrigation sprinkler heads. Frozen water can also break sprinkler heads and pipes. Even a small water leak can lead to water coming out of the ground in the yard.
Other Leaking Household Water Pipes
Any sewer water or freshwater pipes within a building could eventually create a puddle in the yard. These leaks are often under a concrete floor and the first indication of this problem is typically a wet basement floor.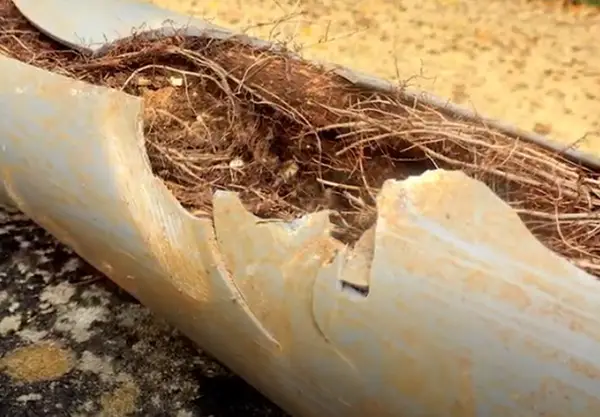 Tree Roots Clogging and Breaking Sewer and Water Pipes
The city planted a tree in the street close to where the sewer line from my house is located a few years after I built my house. It was only a matter of time before the plastic sewer pipe was clogged or broken by tree roots. This problem is often discovered when the toilet starts backing up or the shower starts draining slowly.
Although some types of freshwater lines are more durable than others, tree roots can eventually break virtually any type of buried water line.
Sump Pump Discharge Causes Water Coming Out of The Ground in The Yard
Most sump pumps discharge water at the top of a yard and this can create a puddle. Some sump pumps however have a discharge pipe that runs underground. The end of this pipe may become clogged or the water in the pipe freezes, which will then force water out of the pipe.
The increased water pressure or freezing water may lead to a new crack in the pipe or simply result in an already weak part of the system failing.
Related article: Sump Pump Draining into Yard? Why? What Can I do About it?
Roof Gutter Downspouts
Downspouts normally release water on top of the ground, and this can create puddles. When a downspout however dumps into a buried drainage pipe, this could lead to water coming out of the ground in the yard.
As any dip in the drainage pipe can collect water, the pipe must have a steady slope away from the house. If the water in the pipe freezes it can break the pipe, and the yard will be wet next spring.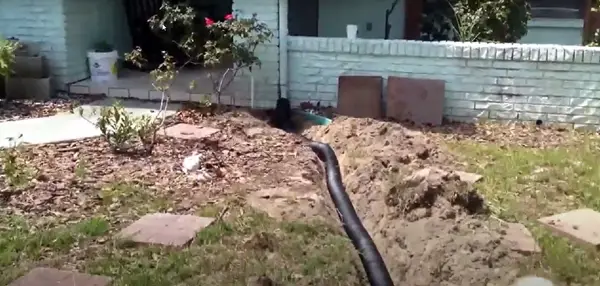 Sump Pumps and French Drains
If new houses or roads are built close to your home, water can start flowing where it didn't before, even underground. This may mean that you must install a French drain in your yard to divert water to a better location. If the water must move uphill to get to a safe place where it can drain away, you will need a sump pump.
This may unfortunately also mean that you'll have to install a sump pump and French drain in your basement.
Sump Pump vs French Drain System for Yard: Do I Need Both?
Fixing Problems with Wet Yards
Very often, replacing or fixing broken pipes is the logical solution to fix the problem. For other scenarios however, landscaping and installing a French drain and possibly a sump pump may be required.
Any broken pipes need to be fixed as soon as possible before it causes further damage. Get a local professional plumber to get the job done properly the first time.
Pipes don't always need to be dug up and replaced. Pipes can often be relined or replaced by using specialized equipment that only contractors have and know how to operate.
Pipe Bursting for example uses a cable with a conical metal head. When the metal head is pulled through an old pipe, it breaks or "bursts" the pipe apart as the new water line to replace it is pulled in.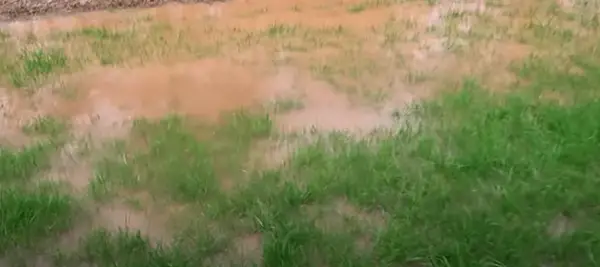 Dealing With Clay Soil and High-Water Tables
There is clay soil right underneath the grass in many areas of the USA. Clay swells up when it gets wet and this slows down the percolation of water into the soil. When there is heavy rain, you may mistakenly believe there is water coming out of the ground in the yard.
After heavy rain, the underground water table may also rise and flood the yard.
Although the best solution to these problems is to grade the yard so that water simply runs off due to gravity, this is often not practical. In that case, the best solution is to use sump pumps or French drains.
Sale
Acquaer 1/3 HP Submersible Water Pump 2160GPH Sump Pump Thermoplastic Utility Pump Portable Electric Water Pump Water Remove for Basement Hot Tubs Garden Pool Cover Draining with 10 ft Cord
【EXCELLENT DRAINING PERFORMANCE】High-efficiency submersible utility pump with 1/3 HP power motor. Draning water up to 2160 Gallons Per Hour( 36 gallons per minute) at 5ft. Lifts water up to 33.5 ft of vertical height. Drain Pump with 10ft power cord and pure copper wire motor, energy efficient and high productive, perform well in drainage.
【REINFORCEMENT MATERIALS】 Submersible pump is made of thermoplastic material, which reinforced its durability and corrosion resistance. Unique ergonomic handle and apperance design for easy portablity. Compact size and lightweight for easy storage. Utility pump runs quiet and stable, fits for household and outdoor occasions.
【WIDE APPLICABILITY】Submersible pump can be operated easily by plugging into the power supply. Suitable for draining water from swimming pool covers, basements, pits, ponds, window wells, rain barrels or other flooded areas. Utility pump is also perfect for irragating, garden watering, car washing and other home requirement.
【DETACHABLE SCREEN & ADAPTER】Submersible utility pump with detachable bottom screen design, filters debris, protect water pump from damage and remove water down to 1/4 in of surface. The drain pump comes with 3/4″ garden hose adapter. 1-1/4″ NPT discharge for higher flow. You could connect 5/8in diameter or larger garden hose depending on your need.
【SAFETY GUARANTEE】Submersible utility pump with oil-filled permanent split capacitor motor provides high efficiency draining performance and ensure the long service life of the pump. Built-in automatic thermal overload protector will protect the pump from overheat damage. Water pool pump is UL certified and it comes with 1-year warranty, Please do not hesitate to contact our Service Team, we are here to help for any concerns within 24 hours.
Related articles:
Zoeller M53 Sump Pump Review. Best Value, Clog Free, Reliable
Zoeller M84 Pedestal Sump Pump Review (Zoeller 84-0001)
Zoeller M98 Sump Pump Review 1/2 HP Effluent and Dewatering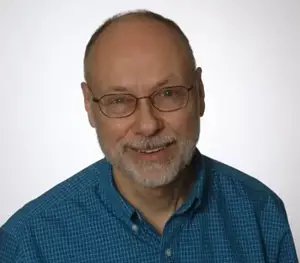 The first time I helped to install a drain tile and basement sump pump system was 1978.
Since then I have worked for a city water utility where I worked with and maintained pumps.
My rental properties and personal homes all needed sump pumps.
As a modular home dealer/builder, those new homes needed sump pumps.
I put that experience to good use by providing reliable, useful, and practical advice on buying, using, and maintaining sump pumps.