My neighbor recently hired a company to repair a basement wall built with concrete blocks and install a sump pump. Included in the project were dual sump pumps, a battery backup, drain tile, and 47 lineal feet of basement wall encapsulation. Plus, pushing concrete blocks back into place and installing metal posts to support the main floor. The total was $20,000.
I don't know how all the prices were broken down, but 2 pumps with battery backup, the sump cover and basin, a check valve, and installation labor came to $2,600. You may be wondering how much it will cost you to install a sump pump in your area. That will depend on the exact scenario. Let's explore some of the details.
Table of Contents
How Much Does It Cost to Install a Sump Pump in My Area?
This question can't be answered easily. I have lived in the western states, the south coast, and the northern Midwest. What people are paid for doing the same job is very different depending on where they live. This means that a sump pump installation will cost more in areas where the general income is higher.
There will also be fewer companies willing and able to do the job in small towns and rural areas. This results in a lack of competition driving the installation cost up.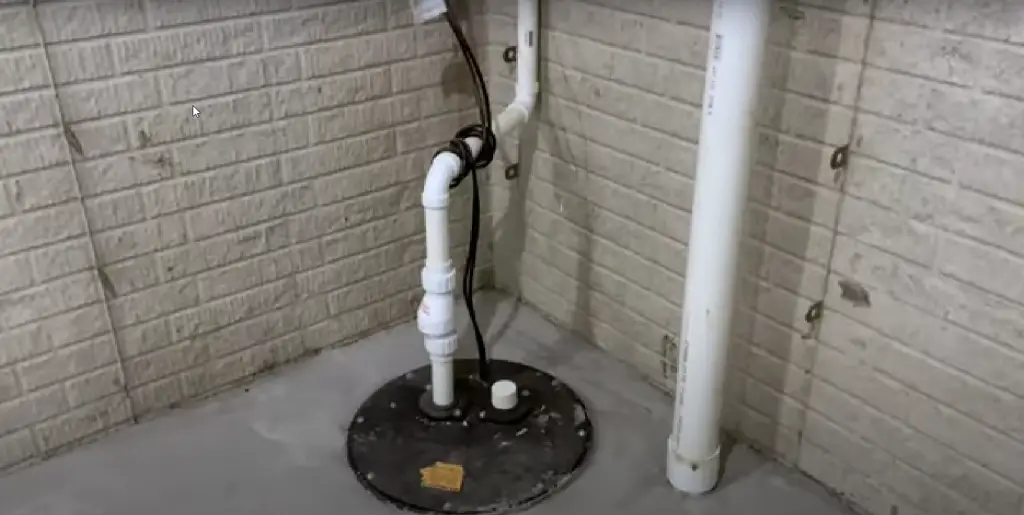 Who Does Sump Pump Installations?
If you only have to replace your sump pump, an experienced handyman or a plumber will be able to do the job. If you however don't yet have a sump pump, a plumber is not the best choice, but a basement waterproofing company should be used.
Concrete Foundation Repair companies are an excellent choice.
As basement waterproofing companies require a lot of business, they are typically only found in bigger cities. If you can't find one in your area, a home or basement remodeler or builders may also be experienced in sump pump installations.
These companies may however prefer to sub-contract part of the job to a local sump pump installation company.
Water restoration companies may also offer sump pump installation services. Basements often flood due to a sump pump not being installed or an existing sump pump failing. If no other supplier is available, contact a water restoration company to see if they can help.
How Much Does It Cost to Install a Sump Pump Based on The Lowest Bid?
Accepting the lowest bid could turn out to be more expensive than what you expected. Smaller and newer companies installing sump pumps may not be able to stay in business long enough for them to honor their warranty. One of my neighbors unfortunately had this experience and had to pay extra to get the job redone. It may be a better choice to hire a bigger company even if it means paying more.
One of the major reasons why sump pump installation companies go out of business is that they don't charge enough to cover their expenses.
Although my figures may not be exact, something like about 80% of all new businesses doesn't even last for five years.
Startup sump pump installation companies often try to steal customers from their competitors by lowering their prices. This will however soon catch up with them as they won't make enough to cover their business expenses and then have to close the business. This problem is common in all industries.
Sump Pump Installation Cost
I have already mentioned a few factors that will affect sump pump installation costs. Some other factors include your location, products and equipment used, and soil conditions.
Prices mentioned in this article don't include installation labor costs unless specifically stated.
So, how much does the installation of a sump pump cost? Although you'll be able to find sump pumps that only cost about $40, they won't be able to handle drain tile water that's very dirty.
Popular, dependable and high-quality sump pumps cost about $200 for a single sump pump.
Shown below is a Zoeller 105-0001 sump pump kit for easy DIY sump pump installation. Includes the pump, sump basin, and cover as well as the check valve.
This will go up to about $350 if you're looking for a primary sump pump together with a backup pump, and if you add a backup battery to this, the cost goes up to about $1200.
In addition, a sump basin costs roughly between $50 and $150. Depending on whether concrete needs to be removed when digging the basin hole or not, the cost for this will run between $500 and $1000. If you have to dig a pit in a crawl space it will cost you more than in a basement that's easy to access.
Zoeller sump pump kit includes the pump, sump basin, and cover as well as the check valve for easy DIY installation. Check out this low-priced value. 
Installation Cost for Drain Tile
The cost of installing drain tile will vary widely. The cost of Installing drain tile in a basement will be higher if there is concrete that needs to be removed. Although there is no concrete to be removed in a crawl space, working in a cramped space will require more man-hours, increasing the cost.
Another factor that will have an impact on drain tile installation cost is how difficult it is to remove dirt and concrete from the house. Working with low overhead ceilings and narrow steep stairs will increase the cost. Typical prices for drain tile installation range from $50 to $80 per lineal foot, including labor.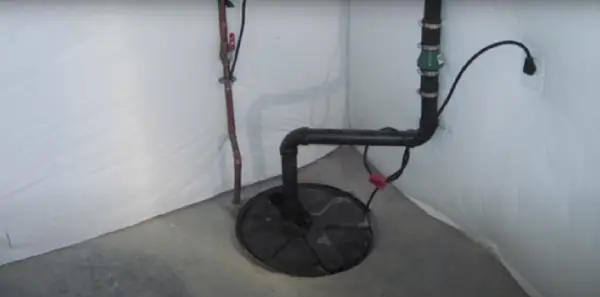 Encapsulation Cost for Basements and Crawl Spaces
Thick plastic sheeting is used for encapsulation, and it often also contains an anti-microbial barrier. The sheet is draped over the walls and allows water to be collected in the drain tile system. The cost for this is typically between $2 and $4 per square foot of coverage, including labor.
Encapsulation of crawl spaces includes covering the floor.
Is Encapsulation of Basement Walls Required?
Basement wall encapsulation will be required sooner or later. Over time, concrete block walls tend to crack and start leaking.
Poured concrete walls however often crack less and it takes longer to start doing so. This can often be fixed with crack repair.
I have however seen where the steel concrete form ties of poured concrete walls allow water to leak through. The metal often starts rusting and this stains the concrete wall. As the form ties need to be placed every few feet, wall encapsulation may be required.
THE BASEMENT WATCHDOG Big Combo CONNECT Model CITS-50 1/2 HP Primary and Battery Backup Sump Pump System with Smart WiFi Capable and 24 Hour a Day Monitoring Controller
1/2 HP energy efficient permanent split capacitor (PSC) primary pump can save money on your electric bills
Primary pump capacity 3,540 GPH at a 10 Ft. lift and 4,400 GPH at 0 Ft. lift. Backup system capacity 1,850 GPH at 10 Ft. lift and 2,600 GPH at 0 Ft. lift
Includes a WiFi capable battery backup system that provides 24 hours a day monitoring of pump, power and battery conditions, backup controller will sound an alarm, illuminates a warning light and describe what to do for easy maintenance
Allows for connection to a Basement Watchdog CONNECT Module (BW-WiFi or BW-HZM), giving you real time alerts via text, email, or through the Basement Watchdog App
Provides days of intermittent pumping power on a single battery charge and is compatible with both wet cell and maintenance-free AGM batteries. Connect two batteries in parallel for double the run time
Are the Benefits of Sump Pumps Worth the Installation Cost?
Installing a sump when the house is being built is always cheaper. Many cities nowadays specify that sump pump systems need to be installed for new buildings.
Retrofitting a sump pump system is expensive and homeowners often put it off if possible. Although this is understandable especially if you have budget constraints, the longer you wait, the more problems will arise due to water damage. This normally means the installation cost will increase over time.
Let's look at some sump pump benefits.
Making Basements Useable and Livable
If you have a flood in your basement, it will cost you much more than installing a sump pump and drain tile system.
The sump pump is only one component of the system required to keep a basement dry. A drain tile system is also required to collect water and divert it to the sump pump to be pumped away.
A sump pump and drain tile system will prevent your basement from being flooded and will protect the interior walls and furniture from water puddles.
Although this will also sometimes protect flooring and carpeting, this is not always the case. This is because a concrete floor will still absorb the water from the earth under the floor.
Although a sump pump system will also reduce the basement's humidity levels, this may not be enough. If your house still smells musty, has mold, or needs a dehumidifier you probably need to add wall encapsulation.
Can Foundation Cracks be Prevented by A Sump Pump?
There are several reasons why foundation cracks may appear in your basement.
Clay soil around a foundation will expand when it gets wet, and this will put pressure on the basement wall. The result is often cracking and the walls bowing inwards.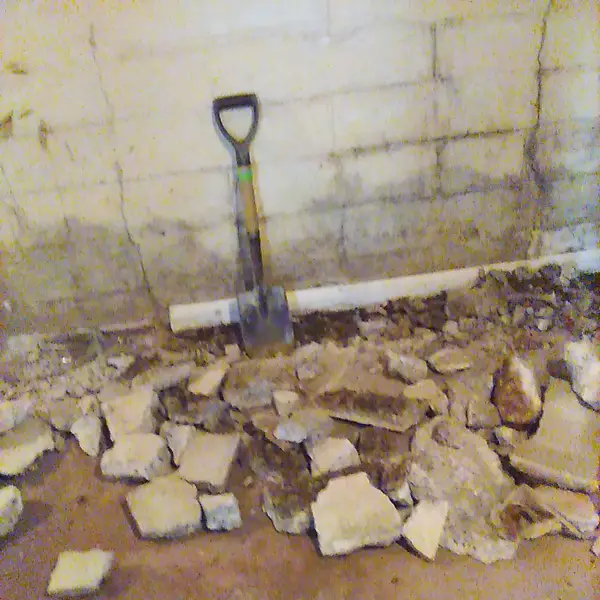 Rainwater that soaks into the soil around a house will cause extreme pressure on the walls. You may be lucky and the water simply soaks through the basement wall and floods the house. In extreme cases however, the walls of the basement will crack, and the concrete blocks pushed out of place.
It is normally not a question of if, but when a basement wall will crack and leak water. It will be much cheaper to install a sump pump as soon as possible rather than trying to keep on fixing cracks.
Repair Cost for Foundation Cracks
Fixing foundation cracks can be easy and inexpensive or become a major problem that is very expensive to fix.
A small crack can be repaired with epoxy for around $200.
The friend that I mentioned at the start of the article had to pay around $9,000 to have some concrete blocks pushed back into place and stabilize the basement wall. As the walls also had a few small cracks that were leaking water, they also had to be encapsulated. If a sump pump system had been installed when the problem first became apparent and was not that bad, those expenses could have been prevented.
Contact these Concrete Foundation Repair experts.
Need a Sump Pump Installed Where You Live?
If you want to find out how much does it cost to install a sump pump where you live, use the contact form below to find local professionals in your area.
Related articles:
Zoeller M53 Sump Pump Review. Best Value, Clog Free, Reliable
Zoeller M84 Pedestal Sump Pump Review (Zoeller 84-0001)
Zoeller M98 Sump Pump Review 1/2 HP Effluent and Dewatering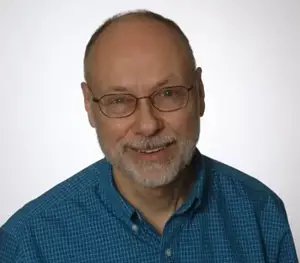 The first time I helped to install a drain tile and basement sump pump system was 1978.
Since then I have worked for a city water utility where I worked with and maintained pumps.
My rental properties and personal homes all needed sump pumps.
As a modular home dealer/builder, those new homes needed sump pumps.
I put that experience to good use by providing reliable, useful, and practical advice on buying, using, and maintaining sump pumps.