How To Choose the Best Battery to Use with Your Backup Sump Pump
To ensure that your basement remains free of water it is important to choose the right battery backup sump pump system. Equally important is the sump pump backup battery that is used to power that type of system. Even the best backup system available will not be of much use if the battery you use is not of good quality.
You probably know that prevention is always better than cure whether you simply prefer to be prepared or have had to clean up a flooded basement.
A sump pump will not operate when there is a power outage without backup power supplied by a sump pump battery.
There are however many types of batteries available and not many of them are labeled as being suitable for use with a backup sump pump.
This makes it quite tricky to choose the best sump pump backup batteries. Shown below is the very reasonably priced and popular 100 amp hour Renogy deep cycle AGM battery.
Sale
Renogy Deep Cycle AGM Battery 12 Volt 100Ah, 3% Self-Discharge Rate, 1100A Max Discharge Current, Safe Charge Most Home Appliances for RV, Camping, Cabin, Marine and Off-Grid System, Maintenance-Free
【Warranty】2-year material and workmanship warranty guarantee.
【Maintenance Free & Safe to Use】No acid leakage, no water refilling, and no harmful hydrogen gas. Manufactured with thick absorbent glass mat (AGM) separators and advanced valve-regulated technology, Renogy Deep Cycle AGM Batteries save you from acid leakage and frequent maintenance.
【Better Performance at Extreme Temp】The improved electrolyte formula ensures stable battery capacity and outstanding discharge performance from 5℉ (-15℃) to 122℉ (50℃).
【Longer Shelf Life】No need to recharge the battery frequently when not in use. Made of high-purity materials, Renogy Deep Cycle AGM Batteries reduce the monthly self-discharge rate below 3% at 77℉ (25℃), which is 5 times lower than their flooded counterparts.
【Outstanding Discharge Performance】Proprietary quinary alloy plates and exclusively treated plate grids enable low internal resistance and high discharge currents of up to 10 times the battery-rated capacity. This means that Renogy AGM batteries can power home appliances with high current ratings.
If you need to replace a sump pump backup battery or don't have a battery, this article will help you select one which is most suitable for your requirement.
Table of Contents
Battery Terms
When wanting to purchase a sump pump backup battery, you'll discover many terms that are being used for batteries. These include:
Gel cell
Wet cell
Sealed Lead Acid (SLA)
Maintenance free
Deep cycle
Solar
Marine
AGM (Absorbed Glass Mat)
VRLA (valve regulated lead–acid)
These terms are all used interchangeably to describe the properties of lead-acid batteries. This makes selecting the right one very confusing.
Let's take a look at the battery terms to help you distinguish one battery from another. Once you understand these, you'll be able to select the right backup battery type for your sump pump.
Shown below is the Basement Watchdog sump pump backup battery. Model 30HDC140S. You must buy acid separately – see further below. Terrific as a backup battery that sits unused on a shelf until needed. Then when needed add the acid into the battery. That way there is a fully charge ready when needed.
THE BASEMENT WATCHDOG Model 30HDC140S Big Standby Sump Pump Battery
Pumps intermittently for days to help protect your basement
Provides longer run times than the Basement Watchdog Emergency Standby Battery (model 24EP6)
Accommodates the Basement Watchdog fluid sensor to sound an alarm when distilled water is needed
Shipped without battery fluid to remain fresh until activated
Can be easily and safely filled with a 6 qt. battery fluid pack (sold separately Model # Z-PACK)
To use the liquid battery acid (shown below), leave the plastic bottle in the box. Pull out the hose, snip off the end of the hose and pour the acid into the battery as needed.
No products found.
Deep Cycle Batteries
A deep cycle battery describes the charging cycle of the battery rather than a type of battery. This is an important term you need to know when you shop for a sump pump battery.
This type of battery has been designed to be charged and discharged (cycled) constantly. This does not reduce the sump pump battery backup life expectancy. Although they are not able to deliver as high a current as wet cell batteries can, they have thicker plates that can be discharged much more.
RV and marine batteries are often a compromise between the lower discharging capacity and the higher starting capacity characteristics.
A battery rating is expressed in ampere-hours (AH). The AH rating specifies the number of amps a battery can deliver for more than 20 hours. A battery that for example has a rating of 200 AH, can provide 10 amps an hour (200/20) for 20 hours. The AH rating is usually indicated on the battery.
Maintenance Free Sump Pump Backup Battery?
Depending on the type of battery the term "maintenance free" can be misleading.
With wet cell batteries, maintenance free simply means that the battery is sealed, and it can also be valve regulated lead–acid  (VRLA).
The hydrogen and oxygen produced by this type of battery are recombined back into water, thereby reducing leakage and rapid evaporation.
Although they are known as maintenance free, they still require maintenance to prevent the cells from losing their cycle capacity when they dry out.
Shown below is the WAYNE WSB1275-75Ah Maintenance-Free sump pump backup battery which can be used with any sump pump. However, it is designed to work with the Wayne ESP25n , and other Wayne Basement Guardian Back-Up Sump Pump Systems like the Wayne WSS30Vn .
Sale
Wayne WSB1275-75Ah Maintenance-Free Battery – Recommended ESP25n, WSS30Vn Basement Guardian Back-Up Sump Pump Systems
Always Have a Plan – Wayne WSB1275 battery helps keep your basement sump system running, especially when you lose electricity.
Back-Up Ready – Compatible with the Wayne ESP25n, Wayne WSS30Vn, Wayne Basement Guardian, and all other Wayne battery back-up systems.
Fully Charged – 12V/75Ah sealed battery comes fully charged with carry handles for convenience.
Additional Features – Sealed lead acid battery is easy to install or remove. Battery is rechargeable for repeated use. No need to mix acid and add water – this battery is maintenance free!
Quality You Deserve – 1-year limited warranty for dependable performance.
Lead Acid Battery Types
Lead acid vehicle batteries are normally used in trucks and cars. These batteries are designed to supply a big current for short periods.
The output and capacity of the battery are measured in cold cranking amps (CCA) and this is often indicated on the battery. Lead acid batteries are not suitable to use for a sump pump except in an emergency. If a backup battery has for example failed, a car battery could be used as a replacement for a short period.
Gel Type Sump Pump Backup Battery
A gel battery is filled with a silica gel electrolyte. The small satchels often placed in pill bottles use the same type of gel.
This type of battery is "maintenance free" as the gel doesn't evaporate. This makes them ideal to use in environments with extreme temperatures and vibrations.
This means they are most often used in racing and off-road vehicles, as well as in wind and solar applications. As the gel design does not allow for electrons to move fast, ion exchange and maximum current capacity are reduced. The time to recharge the battery is also slower.
Wet Cell
Wet cell or "flooded" batteries are mostly used in automotive applications and are inexpensive. They aren't suitable to use as backup sump pump batteries as they only provide short bursts of current to start a car and can't be used over extended periods. Although the deep-cycle versions can be used for sump pumps, this is not the best choice.
Wet cell batteries use lead plates submerged in an acid electrolyte and are available in sealed and unsealed versions. Both versions need to be inspected periodically to prevent the cells from drying out.
Maintaining wet cell batteries is dangerous as you will be exposed to the risk of explosion, acid, noxious gas, and lead.
AGM Sump Pump Backup Battery
The best battery to use for backup sump pumps is an Absorbed Glass Mat (AGM) no-maintenance battery.
AGM batteries are really maintenance free because you don't have to replace or check the water (acid electrolyte) levels.
Below is the very popular and low cost 100 amp hour Weize AGM battery.
Weize 100Ah 12 Volt Battery, Rechargeable Deep Cycle SLA Group 31 Battery for RV, Camping, Solar, Wind, Marine, Wheelchair, Trolling Motor and Off Grid Applications
MAINTENANCE FREE: 12.99x 6.73x 8.43 inches. WEIZE 12v 100Ah sealed lead acid battery is manufactured with absorbent glass mat(AGM), which can help to save you from acid leakage and frequent maintenance.
OPERATING TEMPERATURE: Charging Temp ranges from 14℉ (-10℃) to 122℉ (50℃), discharging Temp ranges from 5℉ (-15℃) to 122℉ (50℃), best operating temperature 77°F (25℃), 1100A (5 seconds) max discharge current.
LONGER LIFESPAN: Compared with flooded counterparts, its lower self-discharge of 1-3% per month allows long storage before recharging, but keep the battery in a charged state and operate it in a appropriate temperature are helpful for prolonging the service life.
APPLICABILITY: With mature, reliable and well-understood technology, WEIZE 12V 100ah deep cycle battery is durable and can provide dependable service for RV, wheelchairs, scooters, golf carts, solar and UPS systems.
WARRANTY: 2-YEAR. WEIZE aims for quality followed up with quality customer service, Amazon doesn't deal with the return of battery-related products, so please contact the seller directly. Weize support team is on standby for YOU.
Although the sump pump backup battery cost of AGM batteries is normally more than other batteries, their safety features and better performance are worth the price difference.
The lead plates in AGM batteries are surrounded by a glass fiber material that absorbs acid electrolytes. The plates are therefore only kept wet and not completely submerged in liquid acid. This also means the batteries don't leak when punctured, making them relatively safe to use.
The design also permits the cells to be stacked closer together, leading to increased energy capacity and faster charging times.
AGM batteries have all the advantages of gelled batteries without their disadvantages.
The acid in an AGM battery is contained by the fiberglass mat while still being available to the battery plates. This results in faster acid migration leading to a higher current delivery and absorption rate.
Gelled batteries generally must be charged at a slower rate to prevent cells from being damaged by excess gas. AGM batteries are charged at standard voltages without requiring special chargers.
There is also no charge or discharge current limits on this type of sump pump backup battery . The heat buildup during normal and heavy discharge and charge currents is virtually non-existent due to its low internal resistance.
Other gel type batteries would potentially lose capacity if they are overcharged due to gaps forming in the gel.
Shown below is the Mighty Max 12V 125AH SLA AGM sump pump backup battery for any of the the Zoeller 508 Aquanot Backup Sump Pumps.
12V 125AH SLA Battery for Zoeller 508 Aquanot Backup Sump
ML125-12 SLA is a 12V 125AH Sealed Lead Acid (SLA) rechargeable maintenance free battery – UL Certified
Dimensions: 13.11 inches x 6.81 inches x 8.74 inches. Listing is for the Battery and Screws only. No wire harness or mounting accessories included.
SLA / AGM spill proof battery has a characteristic of high discharge rate, wide operating temperatures, long service life and deep discharge recover.
Rechargeable battery that can be mounted in any position, resists shocks and vibration. Long lasting high performance in high and low temperatures.
Backed by a 30 day refund policy and full 1 year warranty.
AGM batteries' self-discharge is on average from 1% to 3% per month. This allows for them to be stored for very long periods without charging. After being discharged for a month or more, AGM batteries can still be recharged to nearly full capacity.
As an AGM battery used with a backup sump pump charges up, it preserves water through electrolysis. This is due to hydrogen and oxygen recombining to water while inside the battery. In other types of gelled batteries, it is common that water is lost, especially in hotter climates. This often leads to the premature failure of a battery after a few years. An AGM battery is truly maintenance-free as it does not lose water.
Acid won't leak or spill from an AGM battery due to it being held by the glass fiber material between the lead plates. The plates can withstand shock and vibration as they are packed tightly. Which is why this type of sump pump backup battery is used for off road vehicles and off grid homes.
As AGM batteries are non-hazardous, shipping them is more viable and cheaper.
When you need to purchase a battery backup sump pump system, buying one with an AGM battery is by far the best option. An AGM battery provides maximum effectiveness for a sump pump and is a good value for the money.
I always reccomend buying the battery with the the highest amp hour rating that you can afford. Higher amp hours equals a longer run time for when the power is out for any reason.
PumpSpy Deep Cycle Battery – Maintenance-free AGM Battery w/ 12V 75Ah Mounting Flexibility, 12V AGM 75Ah Ideal for Start-stop Applications, Insusceptible to Vibration, Handles High Electrical Loads
MAINTENANCE FREE – No more frequent maintenance through regular addition of water or acid just to have a proper operation. Our AGM deep cycle battery 12v pack will rescue you from the danger of acid leakage and frequent water refill.
SEALED LEAD ACID BATTERY – You can now eliminate spilled acid from a tipped battery and hydrogen gas venting because our AGM 12v deep cycle battery is completely sealed, averting any form of leakage.
BETTER CYCLING PERFORMANCE – Our Absorbent Glass Mat (AGM) Technology enables low internal resistance and high discharge currents. This valve regulated rechargeable battery 12v allows dependable operation in any position.
FAST CHARGING TIME – Quickly recharge your AGM deep cycle battery 12v up to 5x faster than a standard flooded battery. The improved electrolyte formula ensures stable battery capacity with increased cycle life and vibration resistance.
CONVENIENT AND FUNCTIONAL – Efficient to use, our AGM battery 12v has an internal compression that limits the shedding of plate material caused by cycling, which also allows a significantly longer life. It is designed for demanding conditions and can handle high electrical loads.
PumpSpy 12V 100 Ah Maintenance Free AGM Deep Cycle Battery
Maintenance free design does not require regular addition of water or acid for proper operation
Sealed enclosure eliminates spilled acid from tipped battery and hydrogen gas venting
Absorbent glass mat technology for superior performance; valve regulated, spill proof construction allows safe operation in any position
Sealed design is easy to transport and install without worrying about spills
12V, 100 Amp/Hr.
Checking A Backup Battery
When the primary pump can't work due to an interruption of power or a malfunction, the backup pump must start operating to protect the basement from water flowing into it. As emergencies don't happen often, it is important to ensure the backup sump pump battery is always fully charged and in good condition.
This is why it is highly recommended to have the best battery backup sump pump system with text alerts and Wi-Fi . This type of system will alert the homeowner if a battery or pump needs replacement or is about to fail.
Many sump pump backup systems only have an alarm that is audible locally.  It's therefore always good to check the system regularly before the alarm goes off.
Even maintenance free batteries must be checked occasionally to ensure they will perform as expected. It is easiest to check a sealed battery with a sight glass that shows when the electrolyte level is low.
Another way to check the performance of a battery is to use a multimeter. If a battery doesn't hold a full charge, it may need acid electrolyte or distilled water added. If the sump pump battery backup life expectancy has been exceeded, the battery may also need to be replaced.
Conclusions On Buying The Best Sump Pump Backup Battery
You should now know how to select the best sump pump backup battery.  From the information above it is clear that an AGM battery is the best solution. The Renogy Deep Cycle AGM Battery with12 Volt 100Ah is a great value. 
However, when the budget is constrained consider buying one the lower priced wet cell sump pump backup battery options. 
Related articles:
Zoeller M53 Sump Pump Review. Best Value, Clog Free, Reliable

Zoeller M84 Pedestal Sump Pump Review (Zoeller 84-0001)

Zoeller M98 Sump Pump Review 1/2 HP Effluent and Dewatering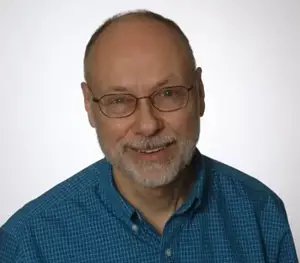 The first time I helped to install a drain tile and basement sump pump system was 1978.
Since then I have worked for a city water utility where I worked with and maintained pumps.
My rental properties and personal homes all needed sump pumps.
As a modular home dealer/builder, those new homes needed sump pumps.
I put that experience to good use by providing reliable, useful, and practical advice on buying, using, and maintaining sump pumps.