Did you buy a house with a sump pump and need to know more about the sump pump components?
Are you thinking of buying a sump pump for the first time?
Well, you are in the right place, so keep reading.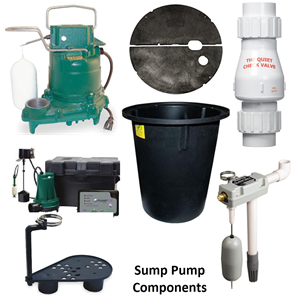 Table of Contents
The Essential Sump Pump Components
The minimum sump pump components needed to install a primary sump pump includes a sump pump basin to place the pump in. Plus the float and a float switch that come with a sump pump. Then there is the discharge pipe that gets the water out of the house. This is NOT an ideal setup and I am surprised at how often this is all there is in many homes.
As you read through the article you will discover the other sump pump components that will make life easier and safer for the house and the family.
Here is a list of primary sump pump and backup sump pump components and what they do:
Sump Pits and Basins
A sump pit is the hole dug under the basement floor where water is collected. Normally there is a perforated tube that directs the water from basement walls to the sump pit.
A plastic sump basin is placed inside of the sump pit. The basin has numerous small holes in it to help collect water from under the basement floor.
Not always, but preferably, there is a landscape fabric placed around the outside of the sump basin. Its job is to keep dirt from flowing into the basin. That dirt is hard on the sump pump and can make it fail sooner rather than later.
Sump Pump Covers
These plastic covers help keep children, pets, toys, and dirt out of the sump basin.
The less expensive ones have a wide slot for the pipes and power cords to exit the sump basin.
More elaborate sump pump covers have various holes in the cover for pipes and power cords.
The best sump pump covers provide an air tight seal that permits radon gas to collect in the sump basin and be discharged out the discharge pipe. Obviously, these sump pump lids also keep out the children and dirt.
Sump Pump Stand
Most sump pump suck water from the bottom of the sump pump. Unfortunately, that is where sand and dirt collects over time. You don't want that abrasive dirt clogging up the pumps impeller or wearing out the impeller.
Many homeowners place their sump pump on top of some rocks or bricks but using a sump pump stand is a much better option. Rocks can get jammed in the pump's impeller and burn out the motor.
Also, the space between the rocks or bricks can fill up with dirt much faster than when using a sump pump stand. All of which lowers the volume of water that can be collected in the sump basin.
Zoeller 10-2421, Black
Price For: Each Manufacturers Warranty Length: 1 Year Country of Origin (subject to change): United States
The Primary Sump Pump
The primary sump pump is the first line of defense against basement flooding. It is responsible for pumping water out of the sump pit and away from your home. The primary sump pump is powered by 115-volt house current.
The size of the pump is determined by how much water must be removed per hour. The most commonly used size is a 1/3 HP sump pump. Read my Zoeller M53 review.
The Backup Sump Pump
I can't tell you how important having a backup sump pump is to keep your home safe and dry. In my opinion it is one of the essential sump pump components.
The backup sump pump is a secondary pump that kicks in when the primary pump fails or is unable to keep up with the water inflow. Typically, they are a smaller horsepower than the primary sump pump.
Backup sump pumps can be powered by batteries, water pressure, or generators. They are typically installed above the primary pump in the sump basin.
Zoeller 508-0014 Aquanot Fit 12-volt DC Battery Back-up Sump Pump System with Built-in Wi-Fi for Z Control Connectivity
the Aquanot 508 DC sump pump works alongside submersible or pedestal pumps to provide up to 6 hours of continuous high performance pumping when the primary pump power is interrupted or more capacity is needed. 35 GPM at 10′ at 12.7 volts.
The Fit controller is an automatic charging and protection system, including a low battery indicator and alarm, redundant high water switch, self-testing technology, and built-in Wi-Fi.
Self-testing and smart diagnostics, Early warning diagnostics, Z Control Enabled notification and remote access, Z Control Cloud and App
An integrated DC pump discharge check valve, additional AC pump check valve, tee, and adapter are included for easy installation.
Note: 12V battery is NOT included. Primary pump is NOT INCLUDED.
Read my review: Zoeller 508-0014 Aquanot Battery Backup Sump Pump: free WiFi
Battery and Generator Systems
12-volt battery and 115-volt generator systems are used to power the backup sump pump in the event of a power outage. Battery backup systems are the most common and are designed to provide power for several hours or even days, depending on the capacity of the battery.
Generator systems are a more permanent solution and can provide power for as long as there is fuel for the generator.
GENMAX Portable Inverter Generator, 7250W Super Quiet Dual Fuel Portable Engine with Parallel Capability, Remote/Electric Start, Ideal for Home backup power.EPA &CARB Compliant (GM7250iEDC)
【Digital Dual Fuel inverter generator】GAS go with 7250 starting and 6000 running watts.LPG go with 6000 starting and 5500 running watts . This generator is perfect for emergency home power,jobsite use or camping with your 5ton RV.
【Powerfull Control center】 digital display fertures total running hours , load level,and fuel level and AMPS used, overload,low oil . Type-C charge ports . voltage transfer switch,the 50A socket can get full power under 120V.
【Electronic Fuel level】 Easy to read how much fuel been used , how much percentage of fuel left.
【Automatic transfer switch ready】 equipped with an ats outlet making it easy to connect to a compatible automatic transfer switch perfect model for home standby.
【CO DETECT】 Automatically tums off the generator when an unsafe level of carbon monoxide is detected.
Read: How Does a Battery Backup Sump Pump Work? A Simple Guide
Water-Powered Backup Systems
Of the all of the sump pump components, waterpowered sump pumps are the most dependable while being the least expensive to own and maintain over the years.
Water-powered backup systems are another option for backup sump pump systems. These systems use the pressure from the municipal water supply to power the backup pump.
Water-powered backup systems are typically less expensive than battery or generator systems, but they may not be usable in areas with low water pressure. Lower water pressure means that less water can be pumped per hour.
Also, they generally do not equal the pumping capacity of the 1/3 HP primary sump pumps. This is true even when municipal water pressure is high enough to fully power the pump.
Sump Pump Floats
These come in various shapes and are generally made of plastic. The floats can be hollow or made of solid foam. The solid foam floats cannot fill with water like the hollow ones can. A water filled float will not activate the switch to turn the pump on.
Vertical floats ride up and down a metal rod. Which avoids the float from getting tangled in the power cords like tethered floats do.
Many floats are of the tethered type, where they are attached at the end of an electrical tether.
Types of Float Switches
Of all of the sump pump components, no matter what brands you buy, the switches are the first thing to fail.
The float switch is a separate device from the float. The float activates the switch to turn the pump motor on and off.
Float switches are used to activate the primary and backup sump pumps when the water level in the sump pit rises above a certain level.
There are two main types of float switches: vertical and tethered. Vertical float switches are more reliable and are less likely to get tangled in power cords. While tethered float switches are more affordable and easier to get tangled in power cords.
FLUENTPOWER Sump Pump Vertical Mechanical Float Switch, Universal Float Switch Replacement with 120V Plug for Sump and Sewage Pump, Smaller Basins, Pumps & Plumbing Equipment, with 10′ Cord, Black
1️⃣ VERTICAL MECHANICAL FLOAT SWITCH: Comes with a 10′ long power cord with a piggyback plug, mounting bracket, stainless steel hose clamp, and 2 x screws.
2️⃣ UNIVERSAL PUMP REPLACEMENT: Suitable for working with sump pump, sewage pump, utility pumps and effluent applications. Search the sewage pump in our store: B0CHJNX3T3
3️⃣ AUTOMATIC OPERATION: Converts manual pumps into automatically turns on and off. When float switches are fully functional, no manual activation is required, and water is pumped out of the sump pit completely hands-free.
4️⃣ EASY INSTALLATION: This vertical float switch kit comes completely assembled and ready to mount on the pump discharge pipe. 10-foot cord with piggy-back plug; pump plugs directly into switch plug – no wiring needed.
5️⃣ WIDE RANGE: Adjustable pump range from 5.8 down to 0.75 inches. 120-Volt maximum pump running current 10 Amps. One Year Warranty.
A third type of switch is the pressure switch. Which is a diaphragm that moves up and down with the rise and fall of water in the sump basin.
Little Giant RS-5LL 115-Volt Piggyback Low On/Off Level Diaphragm Pump-down Switch, 25-Ft. Cord, Black, 599019
APPLICATIONS: converts manual pumps up to 1/3 HP to automatic operation; low level switch is ideal for utility pumps
EASY INSTALLATION: equipped with a piggyback plug for easy installation; just plug the pump's plug into the back of the switch plug
COMPACT DESIGN: ideal for confined spaces
LOW ON/OFF LEVEL: Pump activates when water reaches 2.5 inches and shuts off when water falls to 1-inch (+/- 0.5 inches)
SPECIFICATIONS: 25-foot power cord; 115-Volt; Maximum 10 Amps (Running), 1/3 HP; CSA listed in the USA; 3.031 inches x 1.7 inches x 4.75 inches high
Alarms and WiFi Notifications
WiFi notifications are often an optional component that can be added to a backup sump pump system to alert you when the backup pump is activated or when there is a problem with the system.
Alarms can be audible or visual, while WiFi notifications can be sent to your smartphone or tablet.
Backup Sump Pump Controllers and Battery Chargers
The controller and battery charger sump pump components are what make life easier for homeoners.
Battery powered backup sump pumps have a controller that monitors the pump system that sets off the alarms and sends the WiFi notifications.
The controller also makes sure that the battery charger keeps the battery fully charged. The more sophisticated controllers will notify owners when the battery or sump pumps need to be replaced before they fail.
Discharge Pipe and Check Valve
The discharge pipe is how the pump pushes the water out of the house and into the yard. Just above the sump pump is the one-way check valve.
A check valve is a one-way valve that prevents water from flowing back into the sump pit once it has been pumped out.
This is an important component of any sump pump system. It prevents water in the discharge pipe from flowing back into the sump pit, which would need to be pumped out again.
These two sump pump components are major sources of noise as the pumps are running. Be sure to buy a check valve that is designed to operate quietly. If the sound of water rushing through the pipe bothers you, wrap the pipe with foam insulation.
Sale
Conclusions
In summary, a primary sump pump and a backup sump pump are the essential sump pump components needed by any home that is at risk of flooding. The other sump pump components are needed to support the primary and backup pumps so they can do their jobs.
All backup sump pump systems have loud alarms and/or LED light indicators. However, buying a backup sump pump that includes WiFi notifications is an intelligent decision. Of all of the sump pump components, being notified of a problem when away from home is more than worth the addional expense.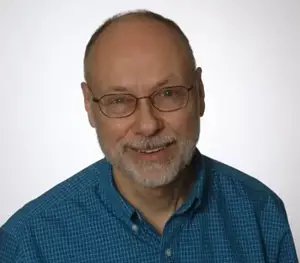 The first time I helped to install a drain tile and basement sump pump system was 1978.
Since then I have worked for a city water utility where I worked with and maintained pumps.
My rental properties and personal homes all needed sump pumps.
As a modular home dealer/builder, those new homes needed sump pumps.
I put that experience to good use by providing reliable, useful, and practical advice on buying, using, and maintaining sump pumps.