Looking to understand the difference between zoeller m53 and m57 sump pumps? Well, you've come to the right place! These two pumps may seem similar at first glance, but there are some key distinctions that you need to know. The Zoeller M53 submersible sump pump has been in production many, many years. Whereas the Zoeller M57 pump is a newer, more durable pump design.
The main differences equate to a more durable and long lasting Zoeller M57 vs M53 pumps. Which, of course, means that the Zoeller M57 is a little more expensive. So, if you need to conserve on the budget, get the Zoeller M53. 
Table of Contents
Some Common Features of the Zoeller M53 and M57 Sump Pumps
Let's explore a few key common features of each. Both models offer superior durability and high-quality performance.
First, both of these powerful sump pumps are designed to fit into smaller sump basin sizes with ease. Their compact size and sturdy cast iron construction, makes them ideal for residential use. With their impressive 1/3 horsepower motor and a maximum flow rate of 43 gallons per minute, the M53 and M57 models are a reliable option for tackling average water influxes.
So, whether you're dealing with a small or large sump pit basin, either pump will be a good fit.
Both pumps are known for their efficient pumping capacity, making them ideal for residential use. They will pump 43 gallons per minute at a 5 foot head height. Which is perfect for use in crawl spaces. These pumps will pump 34 gallons per minute at a head height of 10 feet. Which is the standard for basement use.
Additionally, the warranty period is three years for both pumps. Although the warranty may vary depending upon where the product is sold.
Looking to compare the Zoeller M53 and M57 sump pump differences? Let's dive in and explore their unique features side by side.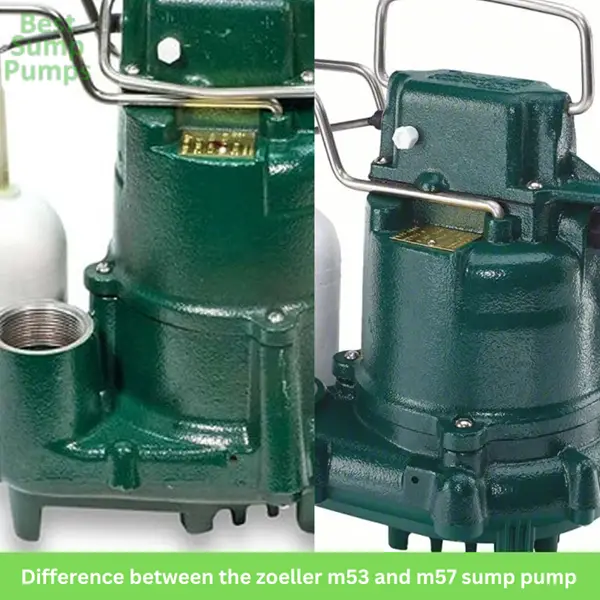 The Difference Between Zoeller M53 and M57 Sump Pumps: A Comprehensive Comparison
When it comes to choosing a sump pump, the Zoeller M53 and M57 are two popular options that homeowners often consider. Both models offer reliable performance and efficient water removal, but there are some key differences between them.
Whether you're dealing with basement flooding or simply looking for a reliable drainage solution, understanding the differences between these two models will guide you in selecting the right sump pump for your needs.
Design and Build Quality
The Zoeller M53 and M57 sump pumps share similar design principles and are known for their durability and rugged build quality. Both models are constructed with corrosion-resistant materials, ensuring long-term reliability and resistance to wear and tear. The M53 features a cast iron housing, with a plastic base and a plastic impeller. While the M57 combines a cast iron housing, cast iron base and a cast iron impeller which makes this Zoeller sump pump really last a long time.
This subtle difference in design affects the weight and handling of the pumps. The M53 is slightly lighter and easier to transport, while the M57 offers added durability and stability due to its cast iron base and impeller.
Moreover, the M53 and M57 feature a vertical float switch system, allowing for automatic activation and deactivation based on the water level. This feature is crucial in preventing flooding and maintaining a dry basement.
Additionally, both models should be used with a check valve to prevent backflow and discharge the water efficiently.
The design similarities make the M53 and M57 suitable for a wide range of applications, including residential and commercial use.
Performance and Power
When it comes to performance, the Zoeller M53 and M57 sump pumps offer identical capabilities. These pumps have a maximum flow rate of 43 gallons per minute (GPM) and can handle solid sherical particles up to 1/2 inch in diameter. This makes it ideal for average-sized basements and light to moderate water drainage needs.
Both pumps will pump out 1/2 inch diameter spherical objects. So, small pebbles, dirty water and lint are easily handled.
Both models feature a 1/3 horsepower motor, which provides sufficient power to pump water efficiently. The motors are designed to run smoothly and quietly, minimizing any disruptions or noise in your living space.
Furthermore, both the M53 and M57 are equipped with a reliable and efficient impeller system that ensures optimal water flow and prevents clogging. However, the M57 impeller is made of cast iron, whereas the M53 impeller is made of plastic that is reinforced with glass and metal.
Overall, the performance and power of these sump pumps make them reliable choices for tackling water accumulation and keeping your basement dry.
The Zoeller M53 vs M57 Sump Pump Price Differences
What amount of funds are in the budget for a sump pump? The Zoeller M53 vs M57 sump pump differences boil down to price and durability. The M53 pump is about $20 less than the M57 model.
In other words:
The Zoeller M53 with some plastic parts vs the M57 with all cast iron parts
Lower priced plastic parts on the Zoeller M53 vs M57 with higher priced cast iron parts.
Sale
Installation and Maintenance
Installing and maintaining a sump pump should be hassle-free, and the Zoeller M53 and M57 deliver in this aspect as well. Both models come with clear and comprehensive installation instructions, allowing you to set them up quickly and easily.
The pumps require a sump pit with a plastic basin for proper operation, and installation typically involves placing the pump in the basin and connecting it to a discharge pipe for water removal. It's important to ensure that the sump pump is securely positioned to prevent movement or vibrations during operation.
As for maintenance, the Zoeller M53 and M57 are designed for minimal upkeep. The manufacturer recommends performing annual maintenance, which primarily involves inspecting the pump, checking that the impeller is not blocked by a rock, and testing the float switch. These routine maintenance tasks are straightforward and can help extend the lifespan and reliability of your sump pump.
Additionally, unlike many competitors there is no screen to remove to access the impeller. This makes it easier to clean and clear any debris that may collect around the impeller. Which is a rarity because of the impeller's design.
In summary, the Zoeller M53 and M57 sump pumps offer reliable and efficient water drainage solutions for homeowners. While the M53 is lighter due to some plastic parts, the Zoeller M57 is heavyier and more durable because of the all cast iron construction. Both models feature durable construction, automatic float switch systems, and easy installation and maintenance procedures.
Common Questions About Zoeller M53 and M57 Sump Pumps
1. Are the Zoeller M53 and M57 sump pumps suitable for outdoor use?
Yes, both the M53 and M57 can be used outdoors as long as they are protected from direct exposure to freezing temperatures. Also, the electrical plug must be protected from water contact.
2. Are these sump pumps energy-efficient?
Yes, the Zoeller M53 and M57 are designed to be energy-efficient, ensuring optimal performance with minimal power consumption.
3. Can I use the Zoeller M53 or M57 in a crawl space?
While the M53 and M57 are primarily designed for basement use, they can also be used in crawl spaces, provided there is sufficient space for installation and proper water drainage.
Conclusions On The Difference Between Zoeller M53 and M57 pumps
Choosing the right sump pump for your basement is crucial in preventing water damage and maintaining a dry, livable space. The Zoeller M53 and M57 sump pumps offer reliable and efficient solutions for water drainage, with slight differences in design, performance, and durability.
By considering the specific needs of your basement and comparing the features of both models, you can make an informed decision and ensure proper water management in your home.
The Zoeller M57 submersible sump pump  is only slightly more expensive but provides greater pump longevity because of the additional cast iron parts vs plastic parts.
However, the Model M53 is a great choice for the budget minded .
Remember to follow the manufacturer's instructions for installation and routine maintenance to maximize the lifespan and effectiveness of your chosen sump pump.